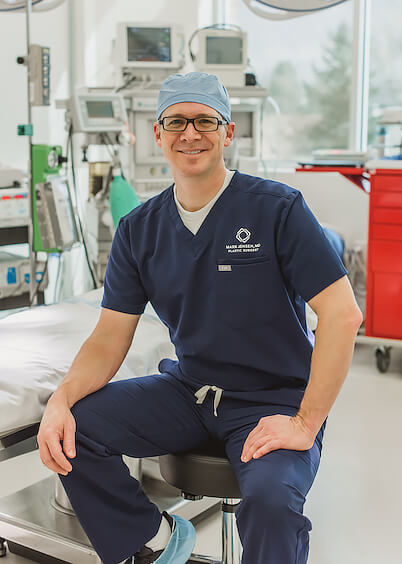 Dr. Mark Jensen has one of the fastest growing medical practices in Utah. He serves patients from all over the state of Utah and neighboring states. As a highly skilled board certified Plastic Surgeon, Dr. Jensen has been sought after in all areas of cosmetic and reconstructive surgery. The care and concern he has for his patients has earned him a great reputation among his patients, as well as his colleagues.
Education
Dr. Jensen graduated Cum Laude from Brigham Young University with a B.A. in Russian. He then went on to earn his Doctorate of Medicine from one of the most highly acclaimed medical schools in the country, the Mayo Medical School in Rochester, Minnesota. He continued his surgical training at the world-renowned Mayo Clinic, which is consistently ranked as best-in-class for hospitals and surgical training. It was at the Mayo Clinic that he completed his General Surgery residency training and then a Plastic Surgery fellowship. Training under many of the top plastic surgeons in the nation, Dr. Jensen gained expertise in many areas of cosmetic and reconstructive surgery.
After completing 16 years of higher education, medical training and specializing in a surgical field, Dr. Jensen is committed to his field of study and wants the best results for his patients. He is board certified by both the American Board of Surgery and the American Board of Plastic Surgery, which is a prestigious association only available to those with certain levels of plastic surgery ethics, experience and skill. The results he achieves are outstanding because of his excellent training and the superior techniques he uses.
Giving Back
As a firm believer in charitable service and giving back, Dr. Jensen has provided medical care around the world to underserved communities, including Johannesburg, South Africa and Lima, Peru. He also spent extensive time training at the Arizona Burn Center and devoted time working with the indigent at the county hospital in Phoenix. He has a long history of volunteer work and is active in his community, providing medical services to the Utah County Wound Clinic. Dr. Jensen was recognized by Utah Business Magazine as a Healthcare Hero for his community outreach work. He currently serves on the Leadership Board for the Breast Center of Excellence in Utah Valley and on the Advisory Board for the Mountainland Technical College surgical technology program. He is also a member of the Utah Society of Plastic Surgeons. Dr. Jensen and his wife have three children and they enjoy relaxing together at home or traveling together…whatever they can do together they enjoy!
Featured In
Dr. Jensen has been featured in Utah Valley Magazine and consistently voted as the #1 Plastic Surgeon by their readers. He has also been featured in the national publication of People Magazine. He has been recognized with many prestigious awards, including the Jon A. Van Heerden award for clinical excellence; The Gold Foundation Humanism & Excellence award in teaching; and Dr. Jensen was the Hoffman Scholar, a Gooding Scholar, a Condit Scholar, and was awarded the Merit Scholarship. During his residency at the Mayo Clinic he was Chief Resident. Dr. Jensen has published numerous articles and papers in medical journals about the surgical research he has done which include research on Amniotic Band Syndrome, Soft Tissue Coverage of the Elbow, Postpneumonectomy Syndrome, Surgical Wound Care, Metastatic Carcinoid Tumors, Flap coverage of the upper extremity, and Hypothenar Hammer Syndrome. Dr. Jensen has given medical presentations at multiple medical conferences around the nation, teaching other surgeons and medical professionals including the Microsurgical Symposium, Grand Rounds for the Mayo Clinic Plastic Surgery department, the Minnesota Surgical Society, the Balfour Research Symposium, the Pancreas Club, and the General Thoracic Surgery Club. He has frequently been the keynote speaker at the Utah Valley Wound Conference, Utah Valley Trauma Society, Rocky Mountain Regional WOCN, and the Utah Valley Tumor Board.
Dr. Jensen dedicates a majority of his time treating breast cancer. He has treated thousands of breast cancer patients since starting his Utah practice in 2011. He remains dedicated to the treatment and survival of breast cancer patients through the latest advancements in science and surgical techniques.
Thinking about cosmetic surgery may be both exciting and scary. It is critical that both the surgeon and the supporting staff are talented and compassionate. You will find not only the highest quality of care, but also that Dr. Jensen and his staff are understanding and want only the best for you. Dr. Jensen really loves to help each patient discover what is best for them and what will contribute to his or her quality of life. He not only does a great job, but Dr. Jensen also really loves his job! Dr. Jensen performs both reconstructive and cosmetic surgery procedures with a focus on improving the quality of his patients' lives and increasing their self-confidence.
Our Staff
Our entire staff plays a vital role in the plastic surgery experience. Our office is 100% dedicated to providing each patient with personal attention, caring support and up-to-date information throughout the patient's entire office and surgical experience. We take pride in staying current with the latest knowledge and procedures in the cosmetic and reconstructive field. We are always happy to answer any of your questions. We all adhere to the fundamental truth that our patients' safety and confidentiality is our top priority.
Lindsay Nyman – Nurse Practitioner
Lindsay has over 15 years of experience as a health care provider. After working for many years as a Registered Nurse, she completed her Masters Degree from Brigham Young University and became a Nurse Practitioner. In a surgical setting Lindsay has been actively involved in examining and diagnosing patients, analyzing lab and radiological studies, providing treatment options, formulating inpatient and outpatient care, and first assisting in surgeries. A strong part of Lindsay's experience has been in breast cancer treatments. She is also certified in non-surgical facial rejuvenation with injectables such as Botox, Juvederm and other available soft tissue fillers. She is the mother of three and enjoys spending time with her husband and children skiing, biking and traveling. Lindsay feels that one of the most rewarding aspects of her job is seeing patients who come in thinking they will never look and feel the same, but they gain confidence back after a life-changing surgery.
McKell Palmer – Nurse Practitioner
McKell graduated with her Master of Science in Nursing from the University of Nevada. Before becoming a Nurse Practitioner she worked as a Registered Nurse on the Neuro Shock Trauma ICU floor for several years. McKell is a Surgical First Assistant to Dr. Jensen during surgeries and sees patients in the clinic. McKell is dedicated to compassionately guiding patients through the surgical process from their initial visit through their recovery. She is certified in advanced dermal fillers and Botox injections. McKell has devoted time to giving back through medical volunteer work, including time with the organization Mothers Without Borders, the Huntsman Senior Olympics, and the Clear Horizons Academy. She has volunteered her time traveling to places throughout the world assessing children for Rheumatic Heart Disease. McKell spent 3 months in New York City, working as an ICU nurse with Covid-19 patients, when the 2020 world pandemic hit and hospitals in that region were in need of critical care nurses. In her spare time she loves to do anything outdoors, with her husband, including hiking, snowboarding, boating and fishing. Sun or snow, she's happy in either climate. McKell thinks that the patients in Dr. Jensen's office are the best in the world. One of her favorite things about her job is getting to know each patient and helping them feel comfortable during their with us.